Help save BAILII
Published: 10 Jun 2011
Last edited: 18 Aug 2011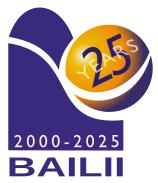 BAILII is fundamental to free access to UK law. It's future is in jeopardy.
A major funder has decided not to continue funding BAILII, and there is uncertainty about the continuing provision of funding by other major funders.
A quick analysis of the current sources of funding shows that the vast majority of funding comes from a handful of large donors.
As at 31 July 2010 there were 150,128 solicitors on the Roll and in December 2009 the number of barristers in England and Wales that held practising certificates was 15,270. If BAILII was funded at just £1 per lawyer, its future would be secure. If BAILII can tap into the generosity of only 10%, then £10 per lawyer is needed.
Why not, as an individual lawyer, give £10 or more now? Or persuade your firm/organisation to stump up £10 per lawyer. Simples.